September 10, 2021
Shop stories: Explore Remedy Bar and Green Remedy in Elsternwick Village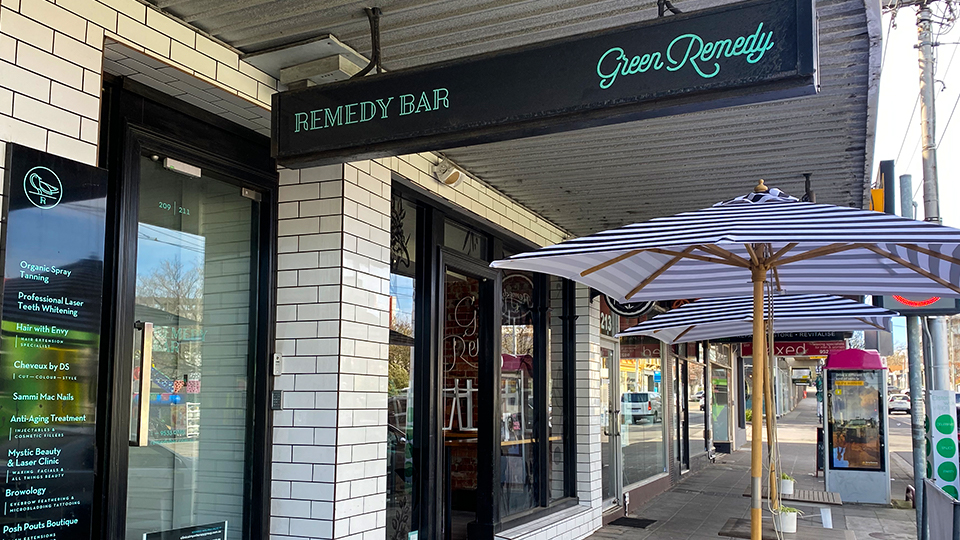 For more than 23 years, people have made Remedy Bar in Elsternwick Village their go-to destination for beauty, wellness and health.
Owner Peter Gyftopoulos has operated the business from the same location in Elsternwick Village since its inception, and has developed an outstanding reputation for offering a holistic beauty and wellness experience for his customers.
The idea for Remedy Bar began when Mr Gyftopoulos and his family struggled to find a beauty salon that offered all the services they were looking for under the one roof.
Inspired by their experiences of beauty salons in Europe and the US, their motivation was to give customers "the full experience" rather than just a simple service.
As a result, the salon offers services including hairdressing, organic spray tanning, facials and anti-ageing treatments, eyebrow microblading, laser teeth whitening, relaxation massages, and even reiki treatments.
Mr Gyftopoulos said he was determined to create a space where clients could sit back and truly be pampered in style, having every need looked after in one place, and walk out feeling and looking their best.
Introducing health food cafe Green Remedy
As an extension to their existing business, Green Remedy was introduced next door in 2015 to complement everything Remedy Bar was already doing.
Described as a "health food cafe and juice bar", Green Remedy offers a range of organic, vegan and gluten free food and beverage options that are ideal to "grab and go".
In the store you'll find everything including superfood smoothies, coffee, cold pressed juices, acai bowls, as well as raw vegan desserts, gourmet sandwiches, and nutritious snacks like protein balls.
Mr Gyftopoulos said he decided to open Green Remedy after his own family embarked on a health journey of their own.
"We've been eating organically at home for more than 17 years… and we wanted to bring that into our business," he said.
Green Remedy complements their original business, Remedy Bar, very well. A typical customer will visit Remedy Bar to have their hair done or to get a beauty treatment, then they'll stop by Green Remedy to grab a juice and a snack before heading off.
"People come here to look good and feel good. We have pretty much encapsulated all of that, so the businesses are very complementary," he said.
Looking to the future
In running a business for more than two decades, you're bound to notice how an industry changes.
Customers are now far more health conscious and more discerning about what they put on their body, said Mr Gyftopoulos. And this has prompted the business to adapt with the times.
"We tapped into that market quite early as we noticed customers were becoming more health aware," he said.
In 2000, Remedy Bar introduced an organic spray tan – a formulation they created themselves. While organic spray tans are commonplace now, it was a revolutionary offering more than 20 years ago.
"We always look to the future and look at some untapped areas in the market that we can introduce," Mr Gyftopoulos.
"We're always looking to innovate – in business, if you don't do that, you'll get left behind."
Looking to the future, Mr Gyftopoulos has plans to expand the wellness side of the business, by offering more complementary beauty and health services, such as myotherapy.
"We want to be a complete health, beauty and food business," he said.
"We want to be that one-stop shop for people who are like-minded, as far as their health goes."
For anyone who visits Remedy Bar or Green Remedy, the goal is to make them feel at home, said Mr Gyftopoulos.
"We want to make them feel like they're part of the family. We want to make them feel at home. Anything beyond that is a bonus," he said.
Visit the store
Remedy Bar: 209 Glen Huntly Rd, Elsternwick
Green Remedy: 211 Glen Huntly Rd, Elsternwick
Phone: (03) 9533 0765