November 7, 2019
Shop stories: Explore Kosher Kingdom in Elsternwick Village
Set in the heart of the Jewish community in Elsternwick Village, Kosher Kingdom is a much-loved marketplace for kosher groceries, wine and fresh produce.
Yogev Aharon and wife Miriam have owned and operated the family business for the past seven years, supplying the local community with quality kosher goods.
"We pride ourselves on having the greatest kosher range in Australia," Mr Aharon said.
With everything from nuts to sushi, the grocery store has become a one-stop shop for local and imported kosher food and wine.
Discovering new kosher products
The store owner said he enjoyed the challenge of sourcing quality kosher products that couldn't be found elsewhere.
"There are a lot of things that we do that are quite rare for a store like this," he said.
"We supply handcrafted cheeses that are made specifically for us by an artisan cheesemaker on the peninsula."
Mr Aharon said they had a great selection of dry foods like nuts, seeds and grains, as well as a food market bar, where they offered fresh items such sushi and cold press juices.
The store also serves other parts of the community, with a wide health food selection including organic, vegan and gluten-free options.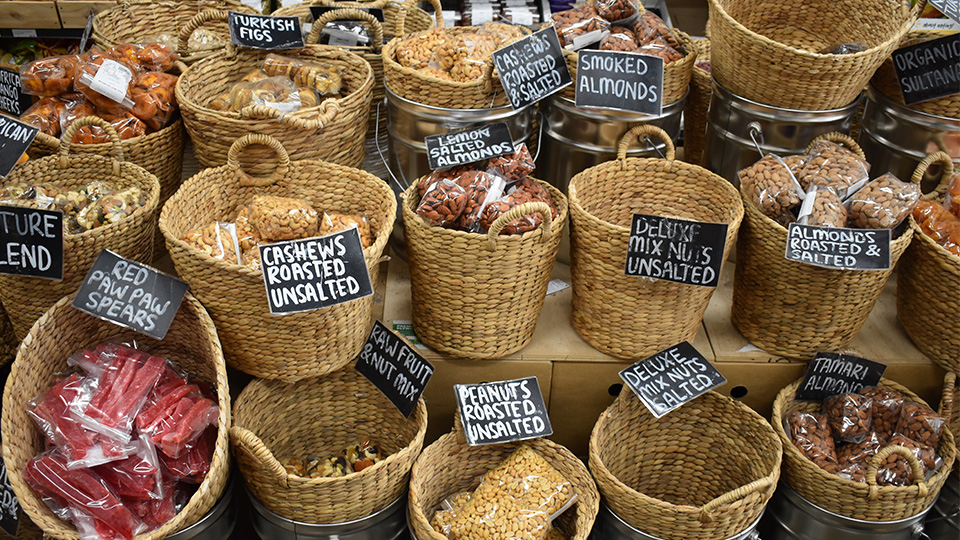 Supporting the community
"We mainly service the kosher community in Elsternwick and surrounding parts of Melbourne, with people coming to us from Bentleigh, Brighton and other areas," Mr Aharon said.
He said there was a real sense of community surrounding Kosher Kingdom thanks to its loyal base of regular shoppers.
"We're really happy where we are; being in Elsternwick has been really pleasant," he said.
Mr Aharon said discovering new kosher products for their customers was one of the highlights of the job.
What is kosher?
Kosher is becoming better understood in the broader community, however it's still unclear to many.
Kosher is a term used to describe food that complies with the strict dietary requirements of traditional Jewish law.
These rules determine which foods can be consumed and how they must be produced, processed and prepared.
For example, kosher guidelines ban combining certain meats with dairy products, which means even the kitchen utensils used for meat and dairy must be kept separate.
Mr Aharon said all kosher products required some sort of certification from a kosher organisation to ensure the products and ingredients were handled correctly.
"When people buy something from our store, they can buy with confidence that it's kosher," he said.
Visit the store
482B Glen Huntly Rd, Elsternwick
Phone: (03) 9523 6019.