June 11, 2021
Shop stories: Explore Guardian Pharmacy in Elsternwick Village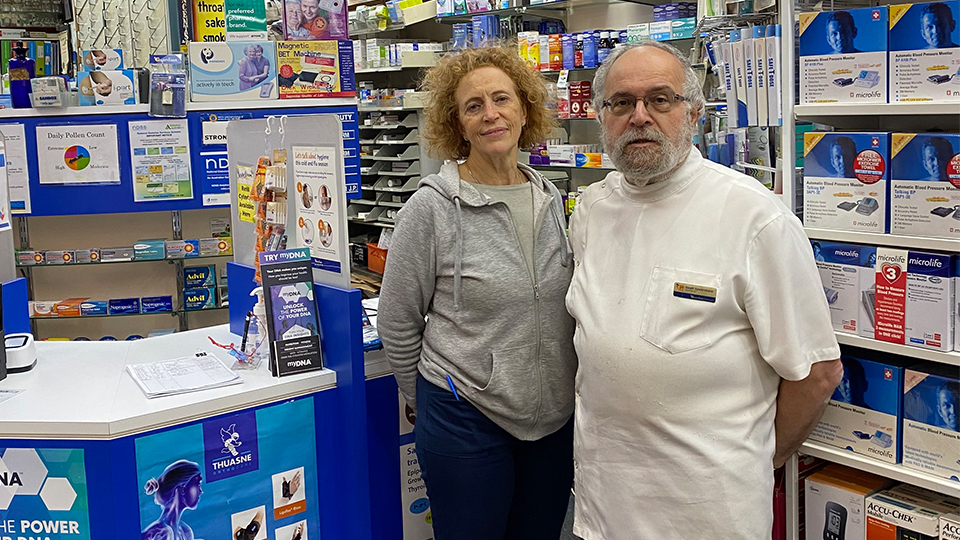 For expert health advice you can trust, with a dose of good old-fashioned service, look no further than Szwarcbard Guardian Pharmacy in Elsternwick Village.
Owners Geoff and Sue Szwarcbard, who are husband and wife, bring 80 combined years of experience to the business.
The pair took over the pharmacy in Elsternwick Village in 1981, but its roots go even deeper, according to Geoff.
"There was a pharmacy established on the site in 1955," he said.
"When we took over 40 years ago, it was small. We've extended quite a bit because we've incorporated other pharmacies since then."
Geoff said the business had changed significantly over the decades.
"We started selling heaps of nappies. Now we sell lots of walking frames and wheelchairs," he said.
One thing that hasn't changed is the store's family-run pedigree.
"All of our kids, every one of them, have worked in the shop," he said.
"We still have one here working part-time."
The personal touch
Geoff and Sue say that service is what sets their business apart.
"You get to know your customers really well over the years," Geoff said. "We know most of our customers' names, their needs, medications."
The Szwarcbards take personal service even further than other businesses.
"We provide a free delivery service," he said.
"I hop on a little mobility scooter and deliver to our clients. We've been doing it ourselves for the last 30 years."
This exceptional service is rewarded by customer loyalty.
"Some of our customers who have moved from the area continue to come back to us, because they know us and trust us… because we look after them," Geoff said.
Advice you can trust
Geoff and Sue, who are both Victorian College of Pharmacy graduates, pride themselves on the expert medical and health advice they provide.
"The big warehouses, they may discount, but they don't necessarily pass on advice and help customers. That's what we specialise in," he said.
Part of that trusted advice includes performing home medication reviews, also known as HMR's.
"If a doctor requires a home medication review, we have a consultant pharmacist that can go through our customers' medications, see where tablets can be combined, look out for medications that may cause interactions or that perhaps they don't need to be on anymore," Geoff said.
Their expert advice extends to everything from asthma and diabetes management to blood pressure services and sports medicine support.
"It's critical to be able to get advice you can trust," he said.
Sports injury support and specialist services
Szwarcbard Guardian Pharmacy has built a reputation as the go-to store for sports braces and mobility aids.
"We have one of the biggest selections of sporting braces, possibly the biggest in Australia. We also have a very large selection of mobility aids and health shoes. We have a wall display that runs about 40 feet, full of braces," Geoff said.
They started with a limited range, but demand grew.
"It's important to be measured and properly fitted for these things," he said.
"Because we have such a large range, it means people can try things on and ensure they are exactly right. I've had people from all over come here, from the other side of the city, because of our range."
The store also offers an extensive hiring service.
"Crutches, wheelchairs, nebulisers, walkers, shower and toilet aids, mobility scooters. The whole gamut of hiring," he said.
If you need some compounding done or are searching for a rare or discontinued item, Szwarcbard Guardian Pharmacy may be able to help with that too.
"We do what we can to find those things people are looking for," Geoff said.
"It's all part of the service."
Visit the store
393 Glen Huntly Rd, Elsternwick
Phone: (03) 9528 5137