September 4, 2023
Rosh Hashanah: Make the most of Jewish New Year in Elsternwick Village
For some, it's the moving prayer services; for others, the distinctive sounds of an ancient ceremonial horn; and for many, it's the optimism that comes from the start of the New Year – but for everyone who celebrates Rosh Hashanah, it's the food, family and festivities that make Jewish New Year such a well-loved tradition.
This year, Rosh Hashanah runs from September 15 – 17, and there is no better place to celebrate than Elsternwick Village, a community steeped in Jewish traditions, and where stores are stocked with everything you need to celebrate.
Here's how you can make the most of Jewish New Year in Elsternwick Village:
Celebrate traditions
The rituals of Rosh Hashanah have their roots in history and none are as distinct or recognisable as the sound of the shofar, a musical instrument usually made from a ram's horn, that is blown during the prayer services held over the two days.
Yet, while Rosh Hashanah is a celebration of the Jewish New Year, it's also important to reflect on the year past.
Many of the devout among us refrain from activities that can detract from the occasion such as driving, watching television, writing, or using electronic devices.
The key to immersing yourself in all the rituals and celebrations of Jewish New Year is to be prepared – and Elsternwick Village has everything you need for your Rosh Hashanah feast and festivities.
Plan your Rosh Hashanah meal
Every Rosh Hashanah feast is punctuated with sweetness, with tables laden with shamelessly sweet cakes and fruits that symbolise the hope for a sweet and happy year ahead.
Your first stop should be Elsternwick Village fresh food stores and Coles, which are stocked with produce and ingredients specific to Rosh Hashanah.
Every Rosh Hashanah table features apples, sliced and ready to be dipped in honey, and they often sit beside other sweet fruits including dates, lychees and star fruits.
A popular fruit for the occasion is pomegranate, which in addition to being super sweet, is said to consist of 613 seeds, which ties in to the 613 commandments of the Torah.
Honey cake is a favourite gift for friends and family, and challah, which is slightly different during Rosh Hashanah, is baked as a round bread and featuring raisins. Local Elsternwick Village bakeries have all your baked good needs for the occasion.
A Jewish celebration isn't complete without an abundance of Kiddush wine to mark the celebration. Pick some up at Kosher Kingdom.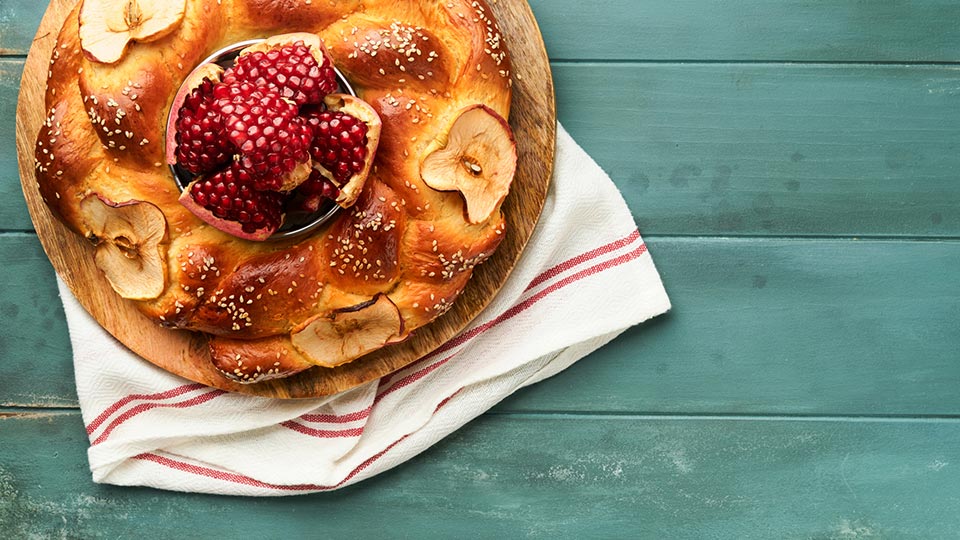 Gift ideas for Jewish New Year
When it comes to choosing gifts for family and friends, you have two options: traditional or slightly more creative – and you can find them all at Elsternwick Village's gift shops.
Jewish calendars are always a popular New Year gift and there is something charming about a traditional wall calendar.
Jewish cookbooks are also appreciated – check out the latest cookbook offerings that put a new twist on traditional recipes and cooking techniques.
Honey dishes and bowls are also great gifts and Elsternwick Village's range of homewares stores offer different styles to suit every decor.
If you want something with a Jewish New Year feel, but fancy stepping away from the usual, why not choose a gift with the Rosh Hashanah theme? Kitchenware and table settings decorated with pomegranates work well and can include dishes, plates, and placemats. How about a tea towel featuring the Jewish calendar?
If you're still stuck for ideas, be sure to visit Ruby's Gifts, a gift shop known for its mix of traditional and modern Judaica gifts and jewellery, and Dalgarno's of Elsternwick for homewares.
The past year has been challenging for so many people in our community, so Rosh Hashanah is likely to be a celebration like no other!
Enjoy the festivities, delight in your feasts, and here's to a healthy and happy year ahead.
Shana Tova!