June 24, 2021
Shop stories: Explore Crabtree & Weeks in Elsternwick Village
Introducing Elsternwick Village's very own green haven. If you're looking for a new plant or the perfect gift, be sure to visit Crabtree & Weeks.
There's more than meets the eye at Crabtree & Weeks.
One of Elsternwick Village's best kept secrets, this gorgeous botanical boutique is home to an outdoor oasis tucked away out the back.
Owner Evan Crabtree has dubbed the space 'The Secret Nursery and Garden'.
"I've tried to utilise every bit of land I can by creating the rear nursery. It's an urban retreat in the confines of a strip shopping centre; a hidden gem," he said.
"I want it to be an inspirational store for people."
Cultivating his passion project
Evan has a mission in life: to share his gusto for greenery.
After 30 years in the horticulture industry, he decided to take the next logical step and open Crabtree & Weeks in Elsternwick Village in 2018.
Since then, the boutique nursery has quickly become a much-loved destination for green thumbs and shoppers alike.
The store specialises in indoor plants and pots, beautiful homewares, and botanical-themed gifts.
"I've always worked in horticulture and for a long time, I wanted to go out alone and give it a try myself, to put my own stamp on the industry," Mr Crabtree said.
While creating a botanical haven has taken shape, finding the right space for the store wasn't easy.
"Setting up a nursery in a strip shopping centre is not the done thing. But it was all about finding the ideal location," Mr Crabtree said.
Enter Elsternwick Village – the perfect destination for his passion project.
"Elsternwick Village is an eclectic mix of old stores and new shops. It has a growing cafe and restaurant scene. And it encompasses quite a range of demographics – the older generation, younger people, families," he said.
"We cater to all of them."
The growing infatuation with foliage
Plants are becoming an increasingly important part of interior decor, Mr Crabtree said.
"People are taking a greater interest in styling their own homes, and indoor plants are a big part of that, whether to clean the air or to create some green space – an indoor jungle," he said.
With this huge growth in indoor plants comes a greater focus on pots.
"Our planters and pots complement interior design trends. I tend to try and provide products for home stylists," he said.
And he's hoping the green trend will keep growing.
"Twenty years ago, the drought had a flow-on effect on residential gardens. People couldn't water their plants and so they weren't as focused on gardening," he said.
"I'm hoping this increased interest in indoor plants will lead to a gardening renaissance."
Taking the guesswork out of gardening and gifting
Providing personalised customer service is all in a day's work for Mr Crabtree.
"I try to give people all the free horticultural advice they need," he said.
"Our product range is ever-changing and focused on high quality yet affordable plants, garden products, and gifts. There's always something for everyone in-store.
"We are currently expanding our range of pots, planters, and small plant specimens, as well as sundries and garden tools, creating a one-stop-shop for all your plant and garden needs."
Green by nature
Crabtree & Weeks prides itself on its eco-friendly practices.
Mr Crabtree works with local growers and distributors and sources products from trusted, eco-friendly companies.
"All my plant stock is supplied locally. It's about supporting local growers," he said.
Crabtree & Weeks is also committed to investing time and resources into the local community.
"I give back to the local community. I give talks and donate plants back to the local community. I want to build a long-term business that's part of the community," he said.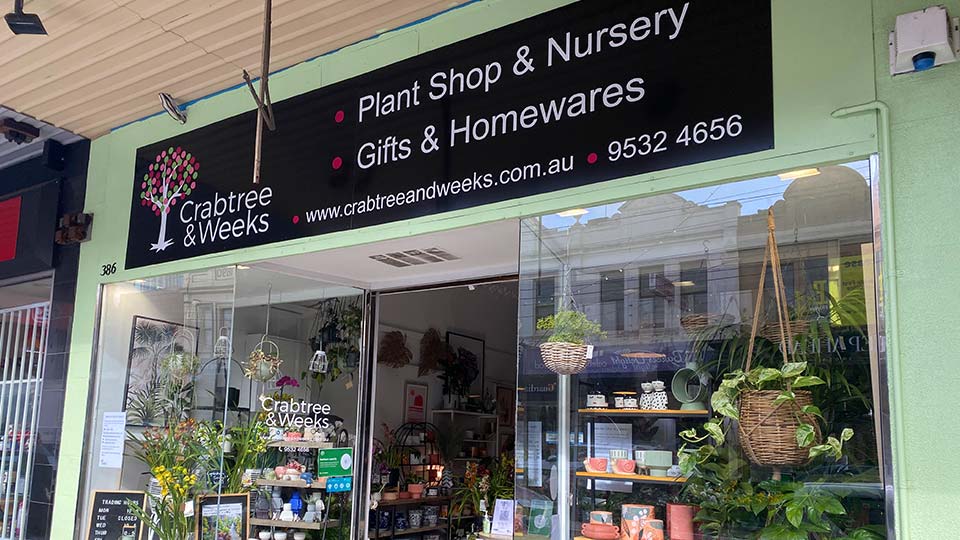 Visit the store
386 Glen Huntly Rd, Elsternwick
Phone: (03) 9532 4656